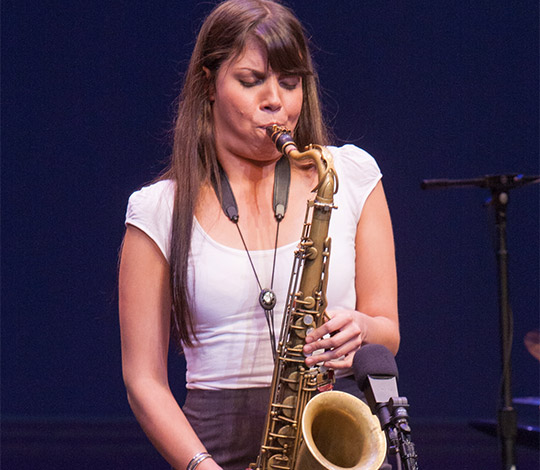 Melissa Aldana
Melissa Aldana began playing the saxophone at age 6 and received lessons from her father, an accomplished saxophonist who competed as a semifinalist at the 1991 Thelonious Monk International Jazz Saxophone Competition. Starting on alto, Aldana absorbed the language of jazz by listening to and transcribing music of jazz greats including her father's favorites, Charlie Parker, Cannonball Adderley and Michael Brecker. After hearing Sonny Rollins perform, she decided to switch to tenor and received her grandfather's Selmer Mark VI as a present. By her early teens, she was frequenting jazz clubs in her hometown of Santiago, Chile.
After meeting Panamanian jazz pianist Danilo Pérez on his 2005 visit to Chile, Aldana received an invitation to perform at the Panama Jazz Festival and was later accepted to the Berklee College of Music in Boston. At Berklee, she earned a prestigious Presidential Scholarship and studied with the likes of Joe Lovano, George Garzone, Frank Tiberi, Greg Osby, Hal Crook, Dave Santoro, Bill Pierce, Dino Govoni and Ralph Peterson. Upon graduating in 2009, she moved to New York where she took private lessons with saxophonist George Coleman, recorded two albums for Greg Osby's Inner Circle Music label, and began performing in some of the city's best venues.
In 2013, at age 24, Aldana took first place at the Thelonious Monk International Jazz Saxophone Competition, becoming the first female in history to win a Monk instrumental competition. In commenting on Aldana's win to Downbeat magazine, Competition judge Jane Ira Bloom stated, "The thing that was apparent to us was that Melissa was a young artist, who, in addition to having embraced a great deal of tradition, has made important steps in developing her own personal sonic vocabulary. We all sensed that from her original music and in her interpretations of traditional material." Following her win, The Washington Post hailed Aldana as the embodiment of "a new sense of possibility and direction in jazz."
Aldana is the recipient of Chile's Altazor National Arts Award and Lincoln Center's Martin E. Segal Award. She has performed with some of the greatest jazz artists of our time, including Peter Bernstein, Kevin Hays, Christian McBride and Jeff "Tain" Watts, and at major festivals including the Barcelona Jazz Festival, Copenhagen Jazz Festival, Monterey Jazz Festival, Twin Cities Jazz Festival, Umbria Jazz, Vienna Jazz Festival and Chile's Providencia Jazz Festival. In July 2014 Melissa Aldana and the Crash Trio released their self-titled debut album for Concord Music Group to critical acclaim.