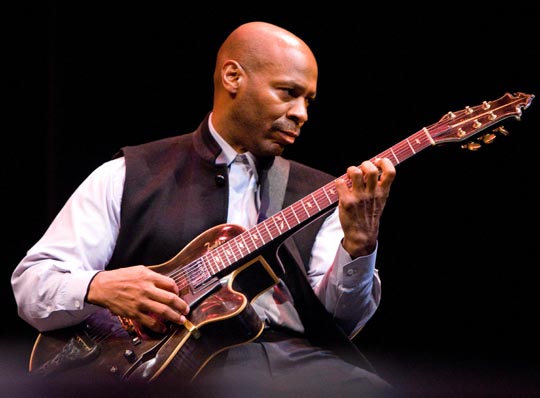 Kevin Eubanks, Artistic Director, Jazz in the Classroom
In 2010, Kevin Eubanks was appointed Artistic Director of the Institute's national Jazz in the Classroom program. In this role, Eubanks visits high schools across the country, leading master classes and assembly programs for talented jazz musicians. Eubanks is committed to raising awareness of the importance of music education programs in our nation's public schools.
Kevin Eubanks is one of the top guitarists on the scene today and is most recognized as the former bandleader for "The Tonight Show with Jay Leno." Influenced by everyone from jazz legend Wes Montgomery to rock icon Jimi Hendrix, Eubanks is widely considered one of the world's most versatile musicians. His ability to move effortlessly in and out of musical genres gave him the flexibility necessary to lead the Tonight Show band for 18 years while his naturally reserved demeanor and wonderfully dry sense of humor made him the perfect partner for host Jay Leno's on-camera banter. Eubanks has performed in virtually every major venue around the globe and has appeared on more than 100 critically acclaimed recordings with such eminent artists as Art Blakey, Slide Hampton, Roy Haynes, Dave Holland, Branford Marsalis, and Dianne Reeves. He has also released over a dozen albums of his own featuring his unique compositional and improvisational style. Besides being an internationally renowned performer and composer, Eubanks is an esteemed jazz educator and enjoys working with up-and-coming young jazz artists. He has taught at the Banff School of Fine Arts in Canada, Rutgers University, and the Charlie Parker School in Perugia, Italy. A Berklee College of Music Honorary Doctorate recipient, Dr. Eubanks serves as Artistic Director of the Thelonious Monk Institute's Jazz in the Classroom program.