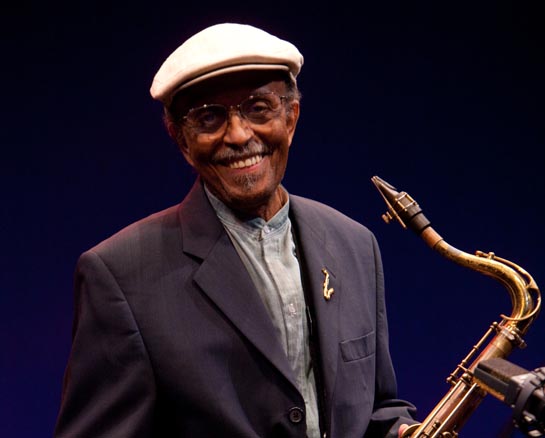 Jimmy Heath, Institute Trustee
Known for his commitment to developing the talents of up-and-coming jazz musicians, Jimmy Heath serves as an Artist-in-Residence at the Thelonious Monk Institute of Jazz Performance. A member of the Institute's Board of Trustees, he has also been part of the judging panel for several Thelonious Monk International Jazz Saxophone Competitions.
Jimmy Heath embodies the history of jazz.  In his 60 years on the jazz scene, the saxophone great has appeared on more than 125 records as both a composer and player. Heath grew up in Philadelphia alongside brothers Percy and Tootie, both renowned jazz players in their own right.  At 14, he began studying saxophone and by 21 he was ready to move to New York with Percy to play with trumpeter Howard McGhee.  In 1949, he became a member of Dizzy Gillespie's sextet and big band.  Heath's alto saxophone style at the time was so reminiscent of Charlie Parker that it earned him the nickname "Little Bird."  After a switch to tenor saxophone and a brief stint with the Miles Davis Quintet, Heath formed his own group.  With Art Farmer as co-leader, Heath's group recorded and toured throughout the '60s.  During this time, Heath played with Cannonball Adderley, Chet Baker, James Moody, Clark Terry, and others.  In 1975, he formed the Heath Brothers with Percy and Tootie and pianist Stanley Cowell.  In this group, Heath played tenor saxophone and soprano saxophone as well as flute.  The group's Live at the Public Theatre was nominated for a GRAMMY Award in 1980.  Since then, Heath has performed and recorded as the leader of his own quartet and alongside Slide Hampton, the Modern Jazz Quartet, Joe Henderson, Sonny Rollins, Wynton Marsalis, the Lincoln Center Jazz Orchestra, and many others.  In 1993, he performed as part of the inaugural celebration for President Clinton at the White House Jazz Festival.  In 1994, he was the recipient of the Thelonious Monk Institute of Jazz Maria Fisher Founder's Award.  Heath's composition such as "CTA" and "Gingerbread Boy" are jazz standards that have been recorded by Miles Davis, Lee Morgan, and Chick Corea, among others.  In 2003, Heath received an NEA Jazz Masters Award and in 2004 he received his third honorary doctorate. An active jazz educator, Heath has taught many of today's successful, up-and-coming jazz musicians.  He spent 11 years as Professor of Music at Queens College and currently presents workshops and clinics around the world.  His most recent release is a Heath Brothers recording titled Endurance.