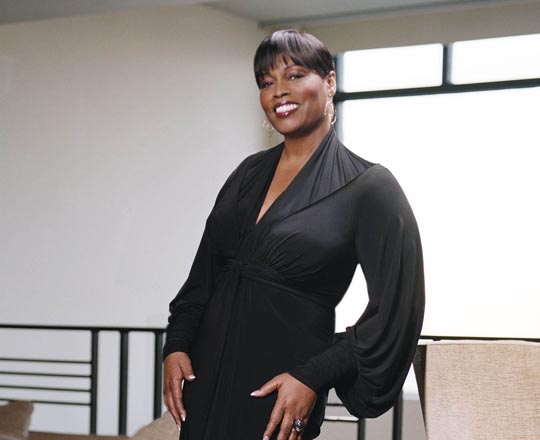 Dianne Reeves, Jazz Vocalist
Dianne Reeves supports the Institute's work by serving as a judge for the Thelonious Monk International Jazz Vocals Competitions and performing at the Institute's All-Star Benefit Concerts. She also co-led an Institute program around UNESCO's International Day of Philosophy in Paris. Most recently, Reeves performed at The White House as part of the musical entertainment coordinated by the Institute for a State Dinner honoring President Hu of China.
Vocalist Dianne Reeves has the remarkable ability to express herself through any number of musical styles ranging from straight-ahead jazz to soul to Latin music. A four-time GRAMMY Award winner, she is widely recognized as one of the premier vocalists on the worldwide music scene. Reeves grew up in Denver and was introduced to the music of Ella Fitzgerald, Billie Holiday, and Sarah Vaughan by her uncle, who was a bassist in the Denver Symphony Orchestra. Trumpeter Clark Terry heard her performing with her high school jazz band and encouraged her to become a musician. After graduating from high school, Reeves performed with Terry and pianist Tommy Flanagan before moving to Los Angeles to work as a studio vocalist. In Los Angeles, she recorded with Lenny White, Stanley Turrentine, and Billy Childs, with whom she developed a long-lasting musical partnership. She toured the world with Sergio Mendes and Latin fusion band Caldera before releasing her first recording in 1982, which she co-produced with Childs. The following year, Reeves joined Harry Belafonte's band and toured as the lead singer for three years. This exposed her to world music that would later influence her recordings and performances. Reeves became the first vocalist to be signed to the newly reactivated Blue Note records in 1987 and her subsequent recording, Dianne Reeves, featuring Herbie Hancock, Freddie Hubbard, and Tony Williams, was nominated for a GRAMMY. Her Blue Note releases in the '90s, including the chart-topping albums I Remember, The Grand Encounter, The Calling: Celebrating Sarah Vaughan, and A Little Moonlight, established her place as one of the leading vocalists in jazz. Reeves performed at the closing ceremony of the 2002 Winter Olympic Games in Salt Lake City. In 2005, she appeared in the George Clooney film Good Night, and Good Luck, performing a series of jazz standards. Her soundtrack for the film won Reeves her fourth GRAMMY Award. Her latest release, When You Know, is produced by George Duke and features Reeves putting her personal touch on classic songs by the Temptations, Minnie Ripperton, and others.