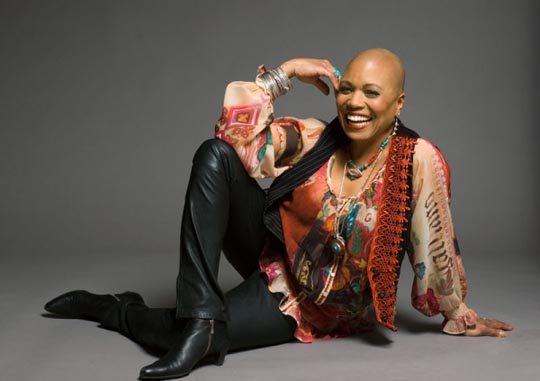 Dee Dee Bridgewater, Jazz vocalist, actress and radio host
A member of the Institute's Advisory Board, Dee Dee Bridgewater has furthered the Institute's mission by serving as a vocals judge for several Thelonious Monk International Jazz Vocals Competitions, performing at the Institute's All-Star Benefit Concerts, and co-leading the Institute's international tours to China, France and India, which were sponsored by the U.S. Department of State and UNESCO. Bridgewater has featured many winners of the Institute's Competition on JazzSet, the NPR radio show she hosts.
Dee Dee Bridgewater's unbounded creativity, contagious exuberance, undeniable confidence, and joyous spirit have earned her a place as one of the premier vocalists in jazz.  With two GRAMMY Award wins and seven nominations to her credit, the veteran vocalist continues to forge her own unique creative path. In 1969, she hit the road with the University of Illinois big band, touring the Soviet Union.  The following year she leapt into the world of jazz, moving to New York and becoming lead vocalist for the Thad Jones-Mel Lewis Orchestra. She also began performing and recording with major jazz artists like Sonny Rollins, Dizzy Gillespie, and Dexter Gordon. In 1974, Bridgewater joined the Broadway production of "The Wiz" as Glinda the Good Witch and received a Tony Award for her performance.  Her subsequent portrayal of Billie Holiday in Lady Day won her overwhelming critical acclaim and a Laurence Olivier Award Nomination for Best Actress.  In 1984, she made a dream come true when she received Horace Silver's blessing to record an album of his music with vocals.  The resulting Peace and Love on the Verve label received a GRAMMY nomination and brought her long overdue worldwide attention.  Her Dear Ella recording with Verve is a loving tribute to Ella Fitzgerald for which she received a GRAMMY Award in the "Best Jazz Vocal Album" category in 1998.  She also received a "Best Arrangement for Vocal" GRAMMY for "Cottontail" from Dear Ella.  Bridgewater was named Ambassador to the United Nations' Food and Agriculture Organization in 1999, joining the battle against world hunger and using her status as a performer to encourage others to become involved. In 2001, she became the host of JazzSet, NPR's award-winning radio program. In 2007, Bridgewater received her seventh GRAMMY nomination for her CD Red Earth. Her latest release, Eleanora Faga (1917-1959): To Billie With Love From Dee Dee brings Bridgewater back to familiar territory with new interpretations of songs associated with Billie Holiday. The album features what she describes as her "dream band" including Christian McBride, Lewis Nash, Edsel Gomez, and James Carter.