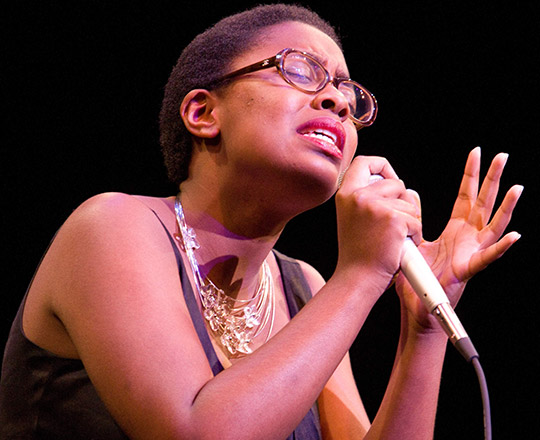 Cécile McLorin Salvant
One of the brightest rising stars in jazz today, vocalist Cécile McLorin Salvant continues to impress critics and audiences with her striking intelligence and creativity. Growing up in Miami, Florida with her French mother and Haitian father, she started classical piano studies at 5 and began singing in the Miami Choral Society at 8. In 2007, she moved to Aix-en-Provence, France to study law as well as classical and baroque voice at the Darius Milhaud Conservatory. In France, she worked with reedist and educator Jean-François Bonnel, discovered an interest in jazz vocals and improvisation, and sang with her first group. She recorded her first album, Cécile, with Bonnel's Paris Quintet in 2009. A year later, she won first place at the 2010 Thelonious Monk International Jazz Vocals Competition.
Salvant's broad repertoire includes unique interpretations of lesser-known jazz and blues songs, as well as standards and her original compositions. She writes lyrics in her native French as well as Spanish and enjoys popularity in both Europe and the United States. Salvant has performed and recorded with artists including Wynton Marsalis, Herlin Riley, Archie Shepp, Jacky Terrasson and Sadao Watanabe, and has appeared at numerous major festivals such as Jazz à Vienne, JazzAscona, the Spoleto Jazz Festival, the Detroit Jazz Festival and more. The New York Times' Ben Ratliff says, "Her voice clamps into each song, performing careful variations on pitch, stretching words but generally not scatting; her face conveys meaning, representing sorrow or serenity like a silent-movie actor." Critic Stephen Holden speaks enthusiastically about the many qualities of Salvant's singing: "Perfect pitch and enunciation, a playful sense of humor, a rich and varied tonal palette, a supple sense of swing, exquisite taste in songs and phrasing, and a deep connection to the lyrics."
Her 2012 album WomanChild, which she recorded at age 23 with Aaron Diehl, Rodney Whitaker, Herlin Riley and James Chirillo, was nominated for a 2014 GRAMMY for Best Jazz Vocal Album. Most recently, she swept the 2014 DownBeat Critics Poll, winning in four categories: Best Jazz Album, Best Female Vocalist, Best Rising Star Female Vocalist and Best Rising Star Jazz Artist. We expect even more great things from Salvant in the years to come.