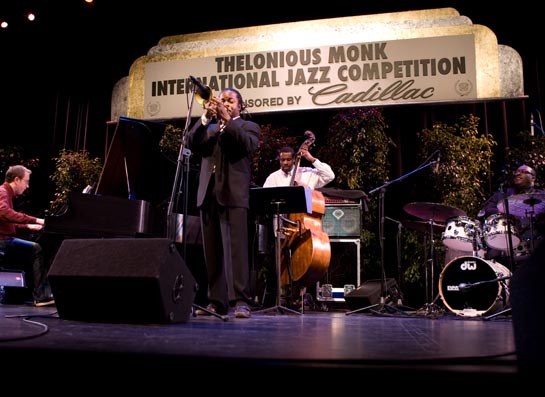 Ambrose Akinmusire
Ambrose Akinmusire is one of the most exciting new artists in jazz. Growing up in Oakland, California, he began playing piano at age four, drums at age 11, and trumpet at age 12. Akinmusire attended Berkeley High School and then moved to New York to attend the Manhattan School of Music. There, he studied with Steve Coleman and in 2001 began touring and recording with Coleman. In 2005, Akinmusire was selected to study at the Thelonious Monk Institute of Jazz Performance. Through the program, he toured India and Vietnam with Herbie Hancock and Wayne Shorter.
Akinmusire has performed and recorded with artists such as Joe Henderson, Christian McBride, and Joshua Redman. He has also toured with the San Francisco Jazz Collective and appeared with Jason Moran, performing the music from Thelonious Monk's legendary Town Hall concert. In 2007, Akinmusire took first place honors in the Thelonious Monk International Jazz Trumpet Competition. The following year, he released his debut CD Prelude…to Cora on the Fresh Sounds label. He was commissioned to write music through Creative Capital's Multi-Arts Production Fund and Chamber Music America's French American Jazz Exchange. In addition to performing, writing and recording, Akinmusire is active as an educator. He teaches at the Stanford Jazz Workshop and the Banff International Workshop in Jazz and Creative Music, and has presented clinics and master classes in Denmark and Switzerland.
Soon after signing to the Blue Note label, the trumpeter released his CD, When the Heart Emerges Glistening, in April 2011. Co-produced by Akinmusire and his label mate and mentor Jason Moran, the album's 12 songs (10 of which were composed by Akinmusire) feature the 28-year-old trumpeter's young quintet (tenor saxophonist Walter Smith III, pianist Gerald Clayton, bassist Harish Raghavan, and drummer Justin Brown), a close-knit group of longtime friends and frequent collaborators. The New York Times wrote that the quintet "seems destined for much wider recognition."
Akinmusire released his second album for Blue Note, the imagined savior is far easier to paint, in 2014, to critical acclaim, writing 12 of the 13 tracks and producing the album himself. He was recently named best trumpet player in the 62nd Annual DownBeat International Critics Poll.