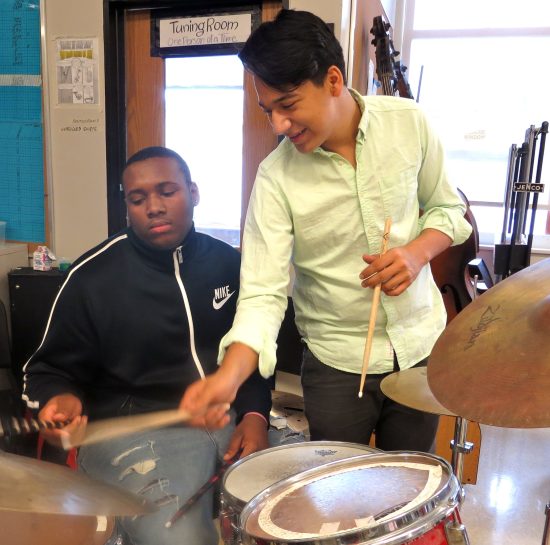 Through the Institute's Peer-to-Peer Jazz Education Tours, gifted student musicians from 11 public performing arts high schools served by the Institute present weeklong tours for their peers in other cities. The student musicians are accompanied by distinguished guest artists including vocalist Lisa Henry, saxophonists Antonio Hart and Bobby Watson, guitarist Kevin Eubanks, trumpeters Ingrid Jensen, Ambrose Akinmusire and Terell Stafford, pianists Herbie Hancock and Gerald Clayton, and bassist Christian McBride.
On each day of the Peer-to-Peer tour, the musicians present an informance (informational performance) for the entire student body at a different school. They play various styles of jazz and talk with the student audiences about what jazz is, why it is important to America, and how a jazz ensemble represents a perfect democracy. Throughout each presentation, the student musicians and guest artists provide further insight into important values that jazz represents: teamwork, unity with ethnic diversity, the correlation of hard work and goal accomplishment, and the importance of finding a passion for something early in life and being persistent. The student audiences learn a great deal from their peers as, due to their similar ages, attitude, and look, there is instant rapport and respect.
Following each informance, the guest instrumental artist presents a jazz workshop for the host school's jazz band in which the visiting student performers play alongside their like-instrument counterparts, providing hands-on tutelage peer-to-peer. At the same time, the guest vocalist presents a vocal jazz workshop for the school's choir. Each tour also includes public concerts at local jazz clubs or other performance venues, giving the touring student ensembles invaluable experience performing with renowned artists while developing jazz audiences for the future.
Since 2005, Peer-to-Peer Jazz Education Tours have been presented in Anchorage, Austin, Boston, Buffalo, Detroit, Indianapolis, Honolulu, Kansas City, Los Angeles, Memphis, Miami, Minneapolis, Philadelphia, Pittsburgh, Rochester, Salt Lake City, San Francisco and Seattle. Each year, the program has resonated with students and adults alike. As Thelonious Monk, Jr. explains, "As young people are so influenced by kids their own age, who better to expose them to this great American art form than those of their own generation?"
In spring 2014, Institute students from public performing arts high schools in Los Angeles, New Orleans, Houston, Miami, New York and Chicago visited schools across America in three tours. Our all-star sextet, comprised of six exceptionally gifted students from across the country, introduced the Peer-to-Peer program to San Francisco, Berkeley and Oakland public school students.
Students from the Los Angeles County High School for the Arts shared their skills with schools in Buffalo and Rochester. And students from the Chicago High School for the Arts visited Austin/San Antonio area schools. While teaching their peers, the touring student musicians received helpful instruction from jazz masters including Ambrose Akinmusire, Antonio Hart and Lisa Henry, and performed at prestigious jazz venues such as Yoshi's San Francisco and the Tralf Music Hall in Buffalo.
Lead funding for the spring 2014 Peer-to-Peer season was provided by United Airlines and the National Endowment for the Arts.