About the Institute of Jazz Performance
One of the Institute's earliest goals was to create a unique college-level jazz program where the masters of jazz could pass on their expertise to the next generation of jazz musicians the way Thelonious Monk had done in his Manhattan apartment throughout the '50s and '60s. In September 1995, the Thelonious Monk Institute of Jazz Performance was launched and the first class of seven students began their intensive training with some of the world's greatest musicians.
The Thelonious Monk Institute of Jazz Performance is a tuition-free two-year program that accepts one ensemble of musicians for each class. All of the students receive full scholarships, as well as stipends to cover their monthly living expenses. The students study both individually and as a small group, receiving personal mentoring, ensemble coaching, and lectures on the jazz tradition. They are also encouraged to experiment in expanding jazz in new directions through their compositions and performances.
The Institute of Jazz Performance students and instructors present a number of major concerts and community outreach programs throughout the United States and overseas. International highlights include performances at the celebration commemorating the 40th anniversary of the coronation of the King of Thailand, the 1998 Summit of the Americas in Chile before 34 heads of state, the United Nations "Day of Philosophy" event in Paris sponsored by UNESCO, and the Tokyo Jazz Festival. The students also have participated in tours of Argentina, China, Egypt, India, Morocco, Peru, Russia  and Vietnam with Institute Chairman Herbie Hancock.
Since the program's inception, students have studied with Kenny Barron, Jerry Bergonzi, Dee Dee Bridgewater, Ron Carter, Hal Crook, Jack DeJohnette, Nnenna Freelon, Herbie Hancock, Barry Harris, Roy Haynes, Jimmy Heath, Dave Holland, Wynton Marsalis, Dick Oatts, Danilo Pérez, Dianne Reeves, John Scofield, Wayne Shorter, Horace Silver and Clark Terry, among many others.
Meet the Class of 2016
In September 2014, the Thelonious Monk Institute of Jazz Performance at the UCLA Herb Alpert School of Music was pleased to welcome seven talented new students to the two-year program.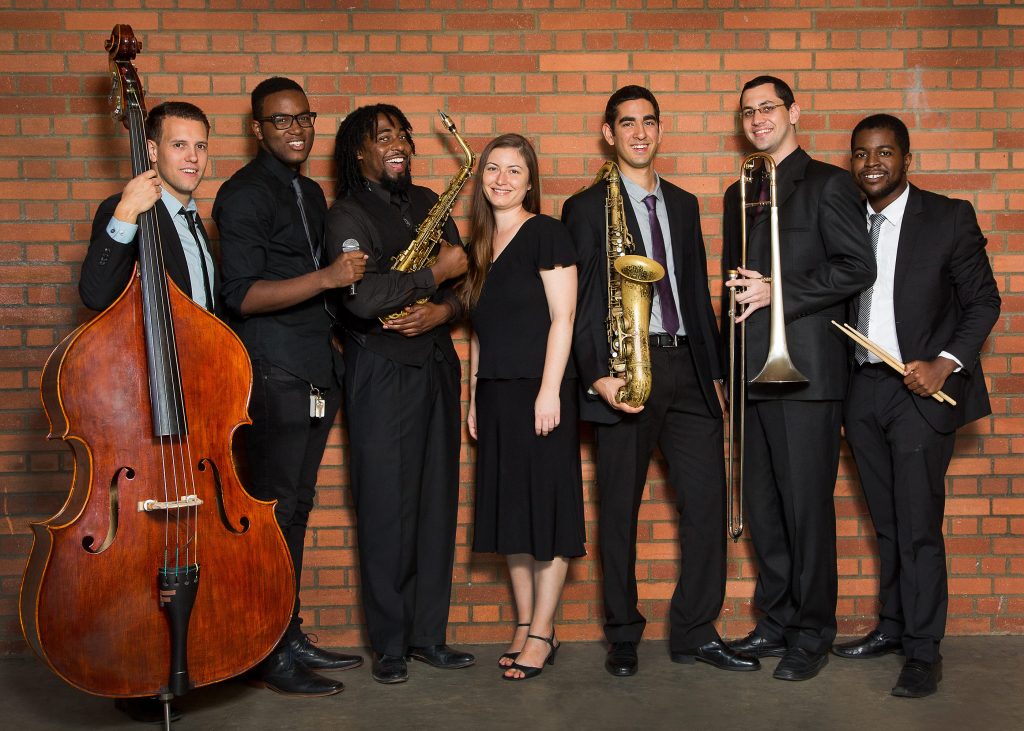 Alex Boneham, bass, was born in Sydney, Australia, and began playing bass at age 9. A James Morrison "Generations in Jazz" scholarship recipient, Boneham graduated from the Sydney Conservatorium of Music with a bachelor's degree in music performance. In 2012, he won the Australian Bell Award for Young Jazz Artist of the Year. Boneham has toured in Australia, New Zealand, Asia and Europe; attended the Banff International Workshop in Jazz and Creative Music; and performed with Greg Osby, Joel Frahm, Mike Moreno, Will Vinson, Dale Barlow, Charles Tolliver and Passenger. He has appeared on more than 25 albums including one that topped the Billboard folk charts.
Christian Euman, drums, was born in Blue Island, Illinois, and began playing drums at age 3. He attended Western Michigan University as a Billy Hart Jazz Scholar and received a bachelor's degree in jazz studies. Euman has served as an instructor at the Keith Hall Summer Drum Intensive since 2009. He was awarded second place in the 2010 Percussive Arts Society International Drumset Competition. Euman has performed with Donny McCaslin, Kris Bowers, Kurt Elling, John Clayton, Robert Glasper and Ed Simon. In 2012, he was the drummer for the hit musical "Crowns" at Chicago's Goodman Theatre, and he has appeared at the 2012 and 2013 Next Generation Jazz Festival.
Michael Mayo, vocals, was born and raised in Van Nuys, California. He began singing at age 3 and attended the Los Angeles County High School for the Arts, studying with Monk Institute alumni Jason Goldman and Walter Smith III. Mayo later studied with Dominique Eade, Jerry Bergonzi, Miguel Zenón, John Lockwood and Ken Schaphorst at the New England Conservatory of Music, where he received his bachelor's degree in jazz voice performance. He has performed in Australia, Brazil and Chile, and appeared at the Panama Jazz Festival. In 2013, Mayo participated in The Kennedy Center's American Voices Festival and the Betty Carter Jazz Ahead program.
Ido Meshulam, trombone, was born in Bat-Yam, Israel, and at age 3 began studying soprano trombone with his father. He graduated summa cum laude from the Berklee College of Music with a bachelor's degree in music performance. Meshulam received first place honors in the 2012 International Trombone Association's Carl Fontana Jazz Trombone Competition, 2013 Eastern Trombone Workshop National Jazz Trombone Competition, and 2014 International Trombone Association's J.J. Johnson Jazz Trombone Competition. He has performed with Conrad Herwig, Luis Bonilla and Cyrus Chestnut, and appeared at the Red Sea Jazz Festival, DC Jazz Festival and Birdland.
David Otis, alto saxophone, grew up in Downey, California, where he began studying saxophone at age 9. He graduated from California State University, Northridge with a bachelor's degree in jazz studies. In 2012, he was a featured soloist in the University's Jazz A Band, which was named Top College Big Band at the Monterey Jazz Festival's 2012 Next Generation Jazz Festival. Otis has performed with Tigran Hamasyan, Shafiq Husayn, John Daversa, Wayne Bergeron, Jimetta Rose, Jairus Mozee, Kamasi Washington and Gene Coye. He has performed at noted Los Angeles venues including the Blue Whale, Catalina's Jazz Club, Nola's, the Piano Bar and Room 5.
Daniel Rotem, tenor saxophone, was born in Jerusalem, Israel, and began studying saxophone at age 13. He studied at the Rimon School of Jazz and Contemporary Music in Tel Aviv, and was the youngest student awarded first place in Rimon's Outstanding Jazz Player Competition. Rotem received a full scholarship to attend the Berklee College of Music and graduated summa cum laude with a bachelor's degree in jazz performance. He has appeared at the Monterey Jazz Festival and Burlington Discover Jazz Festival, and performed with Bill Pierce, Hal Crook, Alain Mallet, Greg Hopkins, Peter Erskine, George Garzone, Lionel Loueke and Dave Liebman.
Carmen Staaf, piano, was born in Seattle, Washington, and began playing piano at age 6. She graduated from a five-year, double-degree program, studying anthropology at Tufts University and jazz performance at the New England Conservatory. Upon graduating, she joined the piano faculty at the Berklee College of Music. The winner of the 2009 Mary Lou Williams Women in Jazz Pianist Competition, Staaf has performed as a guest soloist with the Jazz at Lincoln Center Orchestra under Wynton Marsalis, and has appeared on NPR's "JazzSet" with Dee Dee Bridgewater. She has performed across the United States and in Europe, Latin America and India.